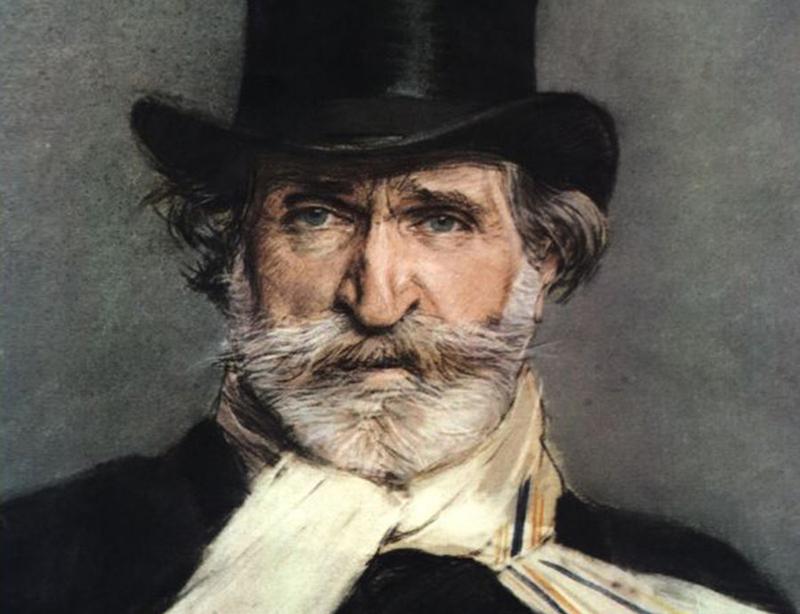 He was born near Busseto to a provincial family of moderate means, and developed a musical education with the help of a local patron. Verdi came to dominate the Italian opera scene after the era of Vincenzo Bellini, Gaetano Donizetti, and Gioachino Rossini, whose works significantly influenced him.
He struggled for success and in 1842, at age 28, it finally came with his bold new opera Nabucco, about the fall of Jerusalem in 587 B.C. While the opera is justly famous for its moving chorus "Va, pensiero" — which became a rallying cry for Italy's struggle for independence and was sung spontaneously by a few hundred thousand people at Verdi's funeral in 1901 — it should be noted that the entire opera is a forward thrusting, rollicking affair. You would not be incorrect in describing it as "ass-kicking Verdi."
It's fun to trivialize Trovatore, Verdi's 18th opera, because of its outlandish plot. The Marx brothers spoofed it magnificently (but with a palpable appreciation) in their 1935 film A Night at the Opera. OK, so an old gypsy woman throws the wrong baby into the bonfire, setting off a string of unfortunate events. It could happen to anyone! Still, Trovatore is a treasure trove of some of Verdi's best and most hummable tunes, and they come lickety-split one after another. There's the crowd-pleasing "Anvil Chorus," plus "Di quella pira," with its brain-splitting high notes for the tenor, two gorgeous arias for soprano ("Tacea la notte" and "D'amor sull'ali rosee"), the exuberant "Stride la vampa" for the mezzo-soprano and "Il balen," a gorgeous moment of reflection for the baritone.
Verdi's operas act on deeply sociopolitical levels, and La Traviata is a perfect example. Here Verdi empowers the common individual. The opera stars a prostitute — something unheard of at the time — and she's the smartest, most sane and honest person in the opera. It takes very little imagination to see how this realistic story (nice boy falls in love with hooker, who breaks up with him to save his family's honor) dovetails with our contemporary concerns. La Traviata was also an act of daring for Verdi, a little jab at the conservatives of his native Parma who balked at the fact that he wasn't married to the woman he lived with. The lead soprano role is so multifaceted and difficult it almost requires three different types of sopranos to pull it off.
By the time Verdi wrote Simon Boccanegra, he was the king of opera. Even so, Boccanegra flopped at its 1857 premiere. (Verdi revised it successfully 24 years later.) It's not too nerdy to note that whatever one thinks of the convoluted plot (a 14th century doge, amid intense political maneuvering, manages to find his long-lost daughter), the work contains examples of two Verdi trademarks: The father-daughter duet and the "Verdi baritone." Verdi excelled at richly drawn, highly expressive roles for the baritone voice (Rigoletto, Falstaff, Macbeth, Iago, Nabucco) and Boccanegra is one of the most rewarding and detailed. He also focused on father-daughter relationships and the duet "Orfanella il tetto umile" from Boccanegra's first act, when he realizes Amelia is indeed his daughter, is a two-hankie affair.
Near the end of Verdi's incredible six decades in opera, he threatened to quit, but instead came up with one fresh work after another. Finally, after some two dozen serious operas, he capped it all off with a comedy. Falstaff is witty and furiously paced but with the autumnal warmth of an old man looking back on his life with a chuckle. Falstaff's Act 3 monologue is a slice of operatic heaven. Drenched from being dumped in the river (with the laundry), Falstaff muses on his fate in a cruel world. As the wine warms his immense belly in the late afternoon sun, he's revived, and the trill of a cricket (listen for it in the music!) brings a smile. Falstaff is one of three ingenious operas (with Macbeth and Otello) Verdi based on Shakespeare. The composer ends his final masterwork with a chorus of "Tutto nel mondo è burla" — everything in the world is a joke.
Read more